Congratulations to this year's National Book Critic's Circle nominees in poetry--
This year's nominees include a number of exceptional titles. Devin Johnston's Sources was profiled in these pages a few months ago, and we have a poem from that striking and now deservedly acclaimed collection below. It's also interesting that Pierre Martory has landed a nomination with the collection The Landscapist (translated by John Ashbery). Martory (1920-1998) was a close friend of Ashbery's while the poet was living in France. In a quote excerpted on the back of the jacket, Ashbery writes that he realized that Martory's work would likely be forgotten unless he translated it and helped it reach a wider audience -- which he has now certainly accomplished.
Again, congratulations to all -- the official NBCC blog reports that "winners of all the awards will be announced on Thursday, March 12, 2009, at a ceremony held at the New School in New York."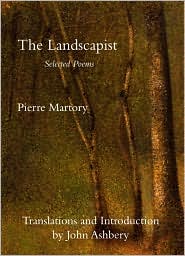 Pierre Martory (trans. John Ashbery), The Landscapist

August Kleinzahler,
Sleeping It Off in Rapid City
 Brenda Shaughnessy, Human Dark with Sugar
Juan Felipe Herrera, Half the World in Light